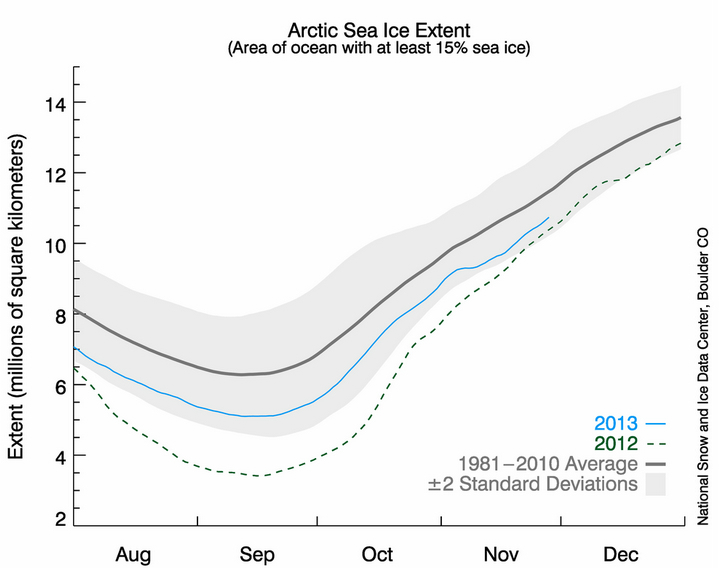 I had heard rumblings this fall about a drastic increase in ice down at the South Pole but nothing about our nearby Arctic ice.  So I did a little digging and I think this could shock a lot of you!
The graph to the left here indicated the normal amount of ice coverage (the shaded grey) and then where we were last year and now how things are playing out this year (blue line).
You can see the low numbers from 2012 (dashed line) and can see why this became mainstream news and a concern.  What I find interesting is that the return of our ice coverage hasn't earned the same amount of public exposure and discussion.  Why is that?
While I'm no climatologist, I do have a constant exposure to weather and it occupies all of my time.  You do that long enough and you see long term trends.  One trend I noticed is that temps have not been climbing as expected in the last 10 years.  After the increase in global temps in the 90′s did not continue as expected.  I remember a report done in the late 80′s that mentioned New York City would be under water by 2010, and another about 10 years ago that by now all sea ice would be gone.  Obviously both were grossly wrong.
Now we are faced with growing ice and a winter that could be colder than normal.  This combined with the latest international climate report stating that global warming models are very wrong really leaves me scratching my head.  How come we don't hear all this in the media.  Each storm is another cry for climate change advocates to raise their voice but the real science and stats just support the global warming movement anymore.  I am concerned that the general population is not being given equal exposure to the facts – look into it yourself.  That's what I did – go out and get your own opinion – you might be shocked at what the reality is compared to what you've been led to believe.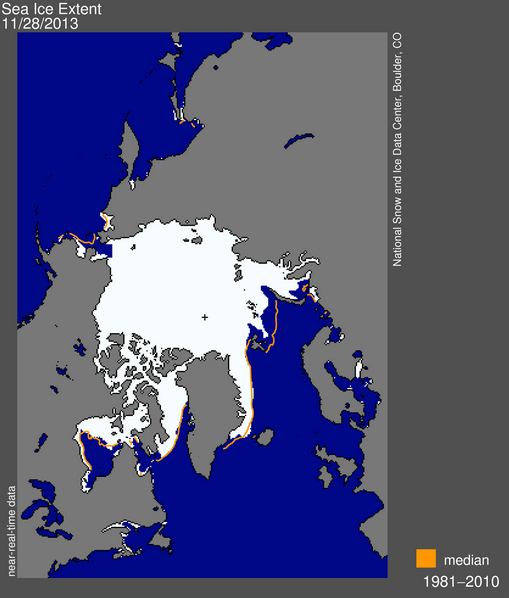 I included another image here – this time a map of the arctic ice as of last week.  Look for the orange line.  It indicates the normal ice coverage for this time of year.  You can see that we are almost at normal ice coverage.  Why hasn't Peter Mansbridge told us about this yet?
As I said – check it out.  It surprised me.  All of this really reinforces my projection for a colder than normal winter!