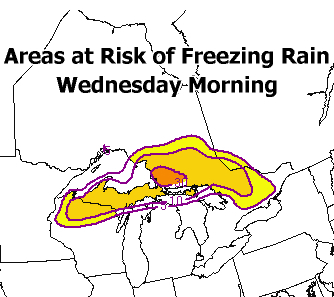 I am still watching the risk of  for tomorrow storm to bring freezing rain in the morning hours.
We will likely see snow overnight tonight and then it changes to freezing rain by the morning and then rain by the afternoon.
The reason for the freezing rain risk is because we will likely see temperatures several degrees below normal at the surface tomorrow morning while warm air and rain moves in aloft, over that cold layer. When the rain falls from aloft it freezes on contact when it hits frozen surfaces.
Certainly watch for slippery driving conditions tomorrow morning.
Follow me on Twitter and Facebook for the most recent updates  @ShieldsWeather